BARGAINS AHOY
Also more melanin-friendly mineral SPF
First: as I mentioned in a recent newsletter, purely mineral sunscreens that don't render dark skin corpse-like (and tbh not only dark skin, some even look ghoulish on my pasty self) are few and far between and I will always point to new & exciting info in that realm. So in addition to Funmi's IG series on sampling them, now you have this video from Gothamista.
OH ALSO just this morning LabMuffin posted about reapplying sunscreen and among all the helpful info there's some bummer news: you really can't rely on the SPF powders. (It's a lot of info, watch the video if you can.) Also a tip: you can reapply with a dry makeup sponge (beauty blender type) as well as the cushion pad she mentions, and I feel like a sponge is easier to clean and more durable. YMMV etc.
On to the bargains!
Okay, if you're fully on board with this whole YAY SKINCARE life style, then it's time for you to start factoring in the annual summer Nordstrom sale, where many of us stock up on faves for the year - as well as finally taking the plunge and buying something that we always wanted to try but could never justify the price but now it's 40% off so carpe diem and shit. This is a summer tradition!
APOLOGIES TO NON-US PEOPLE this is a US thing. Let the sting of your disappointment and sense of being left out of a good thing be soothed by the knowledge that you probably won't go bankrupt if you break a clavicle. We all have our regionally specific perks.
If you're a Nordstrom VIP (which I assume means you have their credit card and use it often), then this sale starts August 4. If you have a card but DON'T use it often, then it opens up to you on August 13. If you're a plebe like me, you finally get a crack at it on August 19 which really makes me wish I had a card, ugh capitalism. I'm sending this early so that all my fellow members of the Broke 4 Life Club can, like me, plan the budget and set a calendar reminder - and if you're not the kind of person who would set a calendar reminder to save $15 on a toner, then you and I are very much Not The Same.
But we ALL get a sneak preview right now so we can start planning our purchases! So here are the things that make me perk up and rub my palms together in delicious anticipation.
First off, the #1 purchase in my world is the best deal on the beloved Paula's Choice 2% BHA Liquid. It's usually two bottles of the regular size product - but this year, they've made a JUMBO bottle: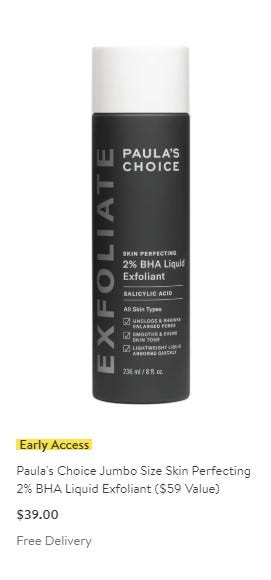 This jumbo size inconvenient if you tend to split the purchase with a skincare friend - and depending on the dimensions of this bottle, it might be logistically annoying to fit it into your vanity or wherever. But if, say, you have 3 teenage daughters who all use this stuff? Then this is YOUR MOMENT. The regular price is $29.50 for 4 oz. This sale price is $39 for 8 oz. I keep a pretty sharp eye out for sales on this, and I've never seen it cheaper than at the Nordstrom event. I stock up every year at this sale because this product is non-negotiable in my routine.
Another good deal, if you're a fan of the First Aid Beauty products (or looking to try their stuff), is this FAB kit:
They're all smaller sizes, but it's a great sampling of all their best products. I'm pretty sure I've seen a similar kit for a comparable price around the holidays, but let's just consider this a Christmas-in-August deal. It's $49, which is pretty good for the chance to check out 5 great (not just non-shitty, but actively good) products that will last you probably a couple of months!
Perhaps you are a Clinique Moisture Surge stan? Well lookie here:
I mean I personally am not such a fan that I'd want the eye cream and lip treatment too, but I know lots of people who will buy about anything that says "Clinique Moisture Surge" on it, so here's your chance to get a jumbo-size of the moisturizer along with the rest for a mere $95.
These next two are for the bigger spenders among us and no judgment - if these are your chosen exfoliants, then this is a very good deal on something you're spending a lot of cash on already so here's your chance to be less thoroughly extorted:
Sunday Riley Good Genes is slightly more beloved than ExfoliKate - but only slightly. Both are lactic acid exfoliators and both are pricey but if you love what you love? Get it while it's a deal.
Every year, I am tempted by - but have yet to succumb to - the lure of the expensive devices.
I am featuring the two that I have seen and heard positive reviews on - NuFace and the SpectraLite. Like, people actually see a difference in their skin from consistently using these. But there are other gadgets, too, and they might be fantastic for all I know. So if you've got some extra cash burning a hole in your pocket and you're curious, give these (or one of the many other thrilling gadgets on sale) a whirl and report back! Again, you might find similar deals at holiday-time, but…also actually probably not. There's a reason this sale is so highly anticipated every year, after all.
The only other things that have caught my eye are some haircare products. PLEASE NOTE I DON'T REALLY KNOW HAIR. I just try to keep mine clean and presentable, and I am very seriously considering these two deals: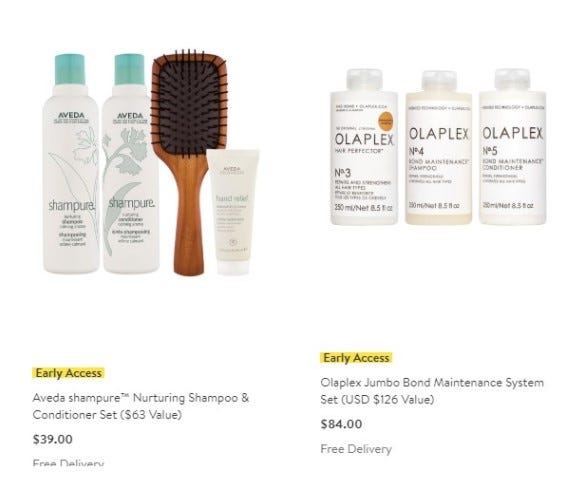 First off, Aveda always smells like heaven and ALSO that little hand lotion that comes with it is one of my favorite hand creams!!! My hair is not so picky, so this basic shampoo/conditioner duo seems like a good way to prevent my hairdresser from berating me about using drugstore shampoos. (OMG so tiresome.) I mean I'll never use that hairbrush, but okay fine whatever.
Meanwhile, Olaplex is a bona fide MIRACLE IN A BOTTLE (or I guess series of bottles.) I currently have the #6 treatment, which is a leave-in product. It works so well to keep my hair soft and frizz-free that I might take the plunge and get the rest of the system because my gray hair is getting more abundant (and suffers breakage more than the non-gray.) If you don't know, Olaplex actually repairs hair. And normally I'd think that's a buncha overhyped BS but L'Oreal rather famously did some corporate espionage and STOLE Olaplex's formula through hijinks and skullduggery! They actually lost in court and everything! Which proves to me that the technology Olaplex came up with actually is unique and a legit breakthrough, not just marketing hype or my own hopeful imagination. ANYWAY.
---
So these are the things that I noted while browsing through the sale, but do take a look and see if some of your faves are in there, because there's a ton of stuff. They have products from Supergoop to Lancome and lots in between. Check the sizes of the products, because it might (or might not!) seem like a bargain until you see how much you're actually getting. And check out the non-beauty stuff too, there are probably some excellent deals in there and I might just go browse the duvet covers now.
Meanwhile, FEEL FREE to ask if you are tempted by something and not sure if it's actually any good or worth the money. You know I live for that shit.
Happy bargain hunting!
EK